Classic Family Favorite
ANNIE, JR
TONY AWARD BEST MUSICAL
Directed by
Rebecca Green
AUDITIONS
April 22 - 23
At The Arabian Theatre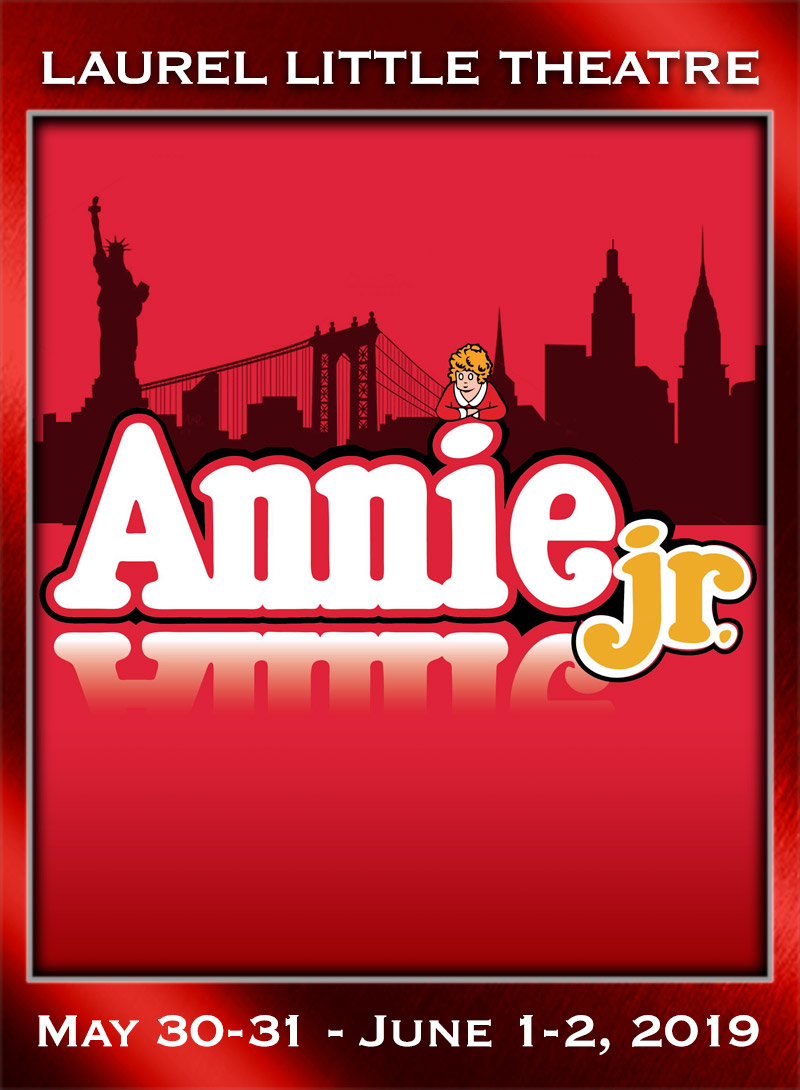 LLT's 58th Season wraps up with our annual Kids' Camp this summer with a production of ANNIE, JR. Our camp is limited to just 100 students and auditions are open only for the registered kids. Auditions for most lead roles will be held on April 22-23 and a few roles are cast the first days of camp. All registered students will be in the show.
Camp runs every day for a week beginning May 23rd, and then the production runs the next weekend May 30-June 2.
Registration is now open and runs through April 15th (unless all 100 spots are filled in early as usual)
Camp is now 70% FULL
CLICK HERE FOR THE ONLINE
SIGN-UP FORM

If you're not already on our mail list, send a request to LLTLaurelMS@aol.com to be included.
Classic Broadway Hit
HELLO DOLLY
TONY AWARD BEST MUSICAL
Directed by
Will Hodges
AUDITIONS
May 13 - 14
At The Arabian Theatre
LLT will kick off our 59th Season this summer with the classic musical HELLO DOLLY. The original production that starred Carol Channing won a record-breaking 10 Tony Awards, including Best Musical – and it was the longest running show in Broadway history at that time. The movie version with Barbra Streisand as 'Dolly' won 3 Academy Awards.
A recent NYC revival starring Bette Midler broke all house records, and now a national tour is crossing the country with Betty Buckley in the lead.
So just who will LLT's 'Dolly' be????? It'll be the talk of the town this coming summer.
Director Will Hodges will need a huge cast of 40 adults (with high school and college age included) and 20 kids (ages 8 and up), as well as a crew of 20 working on the sets, costumes, props and stage crew.
Auditions are set for May 13-14 at 7:30pm at the Arabian Theatre and all roles are open.
No preparation is required! You can come ready to sing anything (with sheet music, a CD, or just singing a'capella). But, if you are nervous to do that alone, no problem – just come on down and all the new folks that have never auditioned before will all go around the piano to sing a song from the show together.
Rehearsals will start early June (after our Kids' Camp ANNIE has finished) – those rehearsals will be three nights a week in June and July – and then the show runs August 2-3-4 & 9-10-11.
Drop us a line at LLTLaurelMS@aol.com if you have any questions.
Our auditions are usually very laid back and you don't really need to prepare anything. Just come on down and we'll have a simple form you fill in with contact info. Auditioning could be a very scary thing, but we try to keep it as easy-breezy as we can so that newcomers will come join in with us on our productions.

For play auditions, the show director will have everyone read some scenes, but you don't have to show up with any memorized piece to audition with.

For musical auditions, you can sing anything you'd like or we'll just teach everyone a short song to sing together. If you bring sheet music, we'll have an accompanist to play for you. You can prepare a song or just sing 'Happy Birthday' or the National Anthem or an old hymn or you can wait and learn a group song with everyone else.