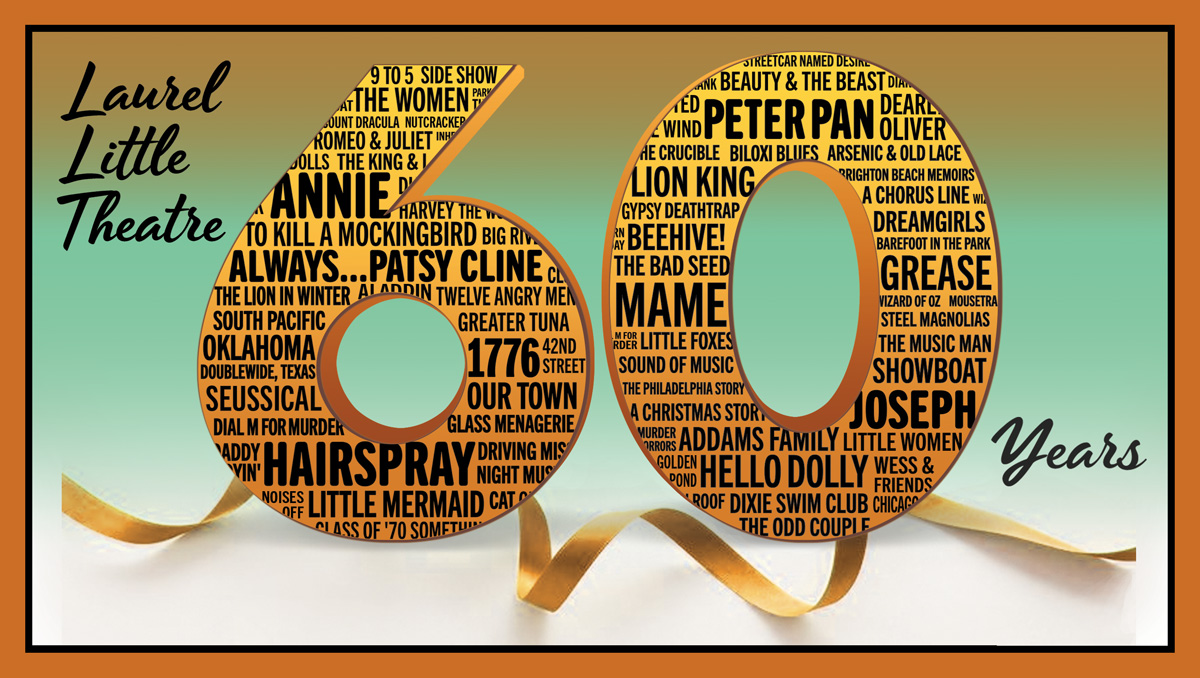 HELP! WE NEED SOME USHERS!
Our LLT Membership & Tickets chairman, Steve Guy, needs some extra volunteers to usher and help front of the house. DOUBLEWIDE, TEXAS opens soon - and runs the last two weekends of January. He needs some hands for the one hour before curtain to help get the audiences through the box office and ticketing, and then also to help with seating inside. Please drop us a line at LLTLaurelMS@aol.com if you can pitch in a few days (or even for the whole run).
OUR NEW COVID SAFETY PRECAUTIONS
Keeping safety in mind as a top priority for our audiences and our volunteers, extra precautions this year include: limited audiences under 50% capacity with marked off rows and empty seats between each couple/family, masks (bring your own, please!) and distancing required, no admittance with visible illness/coughs/sneezing, temperature checks at the door and hydrostatic disinfectant cleaning of the theatre before each performance.
NEXT UP ON OUR STAGE
A SOUTHERN-FRIED TRAILER PARK COMEDY
Doublewide, Texas
January 22-23 & January 29-30 at 730pm
January 24 & January 31 at 2pm

Reservation line is OPEN NOW and answers 24 hours a day at 601.428.0140
Directed by Frankie Bennett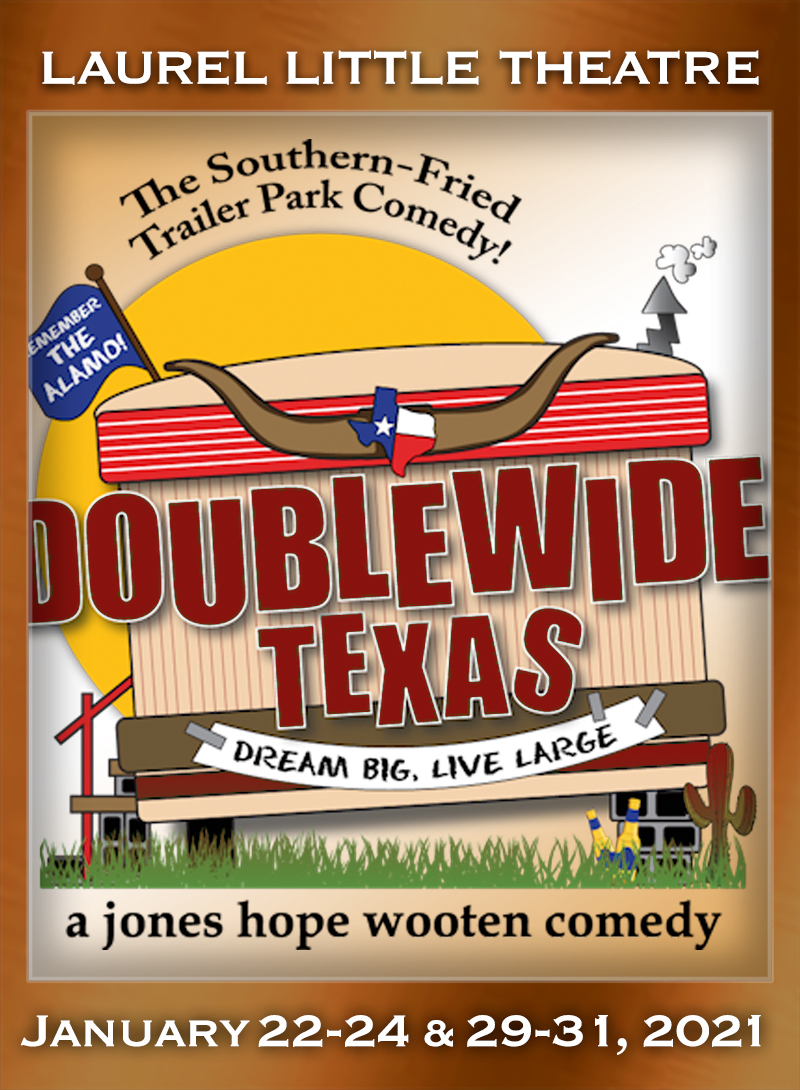 The residents of the smallest trailer park in Texas – just four doublewides – are thrown for a loop when they find out the nearby town of Tugaloo is going to annex them!


Mayhem escalates when they realize if they're gonna have a snowball's chance to stop it, they need to secede from the state of Texas!


'Git' on your Stetson and favorite cowboy boots, and come on over to the new town of Doublewide – where life is double the fun, double the joy and just 'a hoot and a holler' to double the belly 'laffs!' YEEEEEHAW!


Written by the same authors of LLT hits THE DIXIE SWIM CLUB and REX'S EXES, it'll be another of our LLT audiences' favorite 'Southern Comedies.'


Click here for DOUBLEWIDE, TEXAS cast list.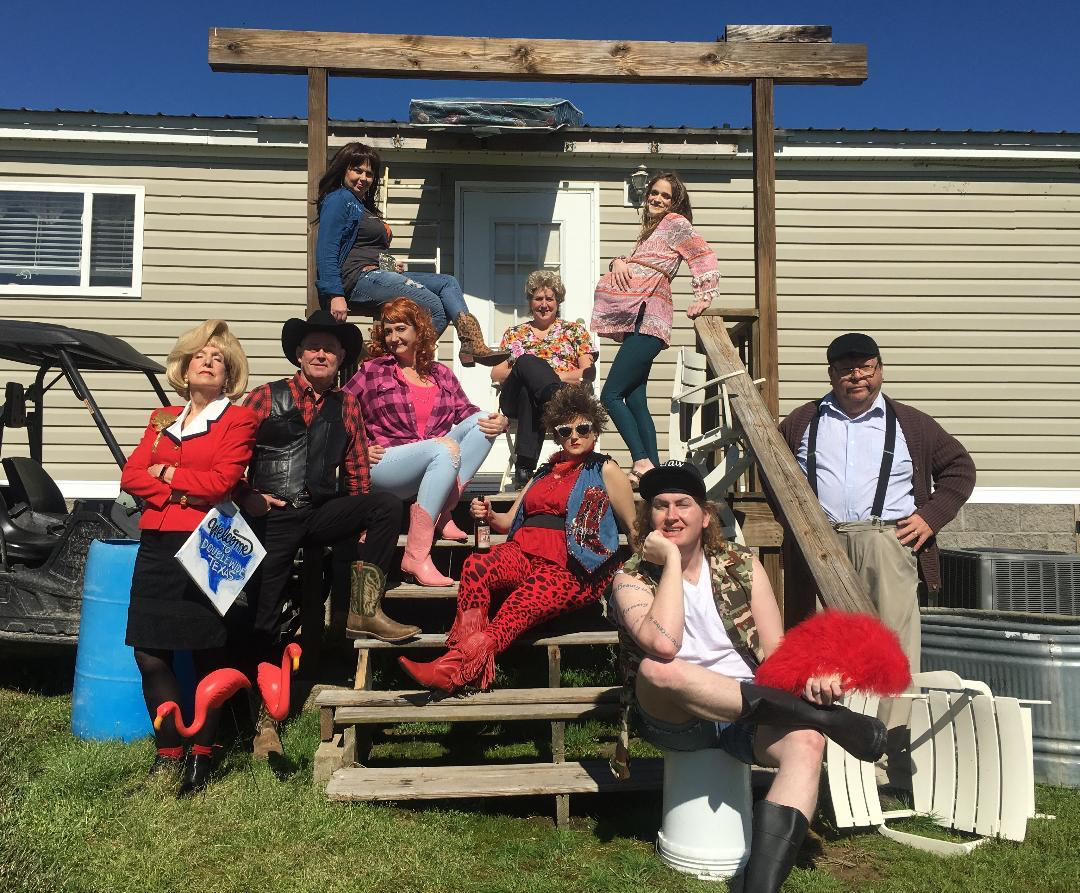 Our DOUBLEWIDE, TEXAS Cast !!!

Top Row (L to R): Paula Pierce, Stacy Ruth, Breanne Dalton
Bottom Row (L to R): Catherine Nowicki, Rick Bennett, Christy Liverett,
Angela Watkins, Beau Blackledge, Randy Cooley

Click image to enlarge
Doublewide, Texas

With the re-opening of LLT, we wanted to let the characters of our newest production give you a heads up of our covid safety precautions. Don't forget to reserve your seats (starting 1/15) so that you can see the show!

Posted by Laurel Little Theatre on Thursday, January 14, 2021
A MISSISSIPPI CLASSIC
WHY I LIVE AT THE P.O.
February 26-27 & March 5-6 at 730pm
February 28 & March 7 at 2pm

Reservation line opens February 19 and answers 24 hours a day at 601.428.0140
Directed by Jessica Shaidnagle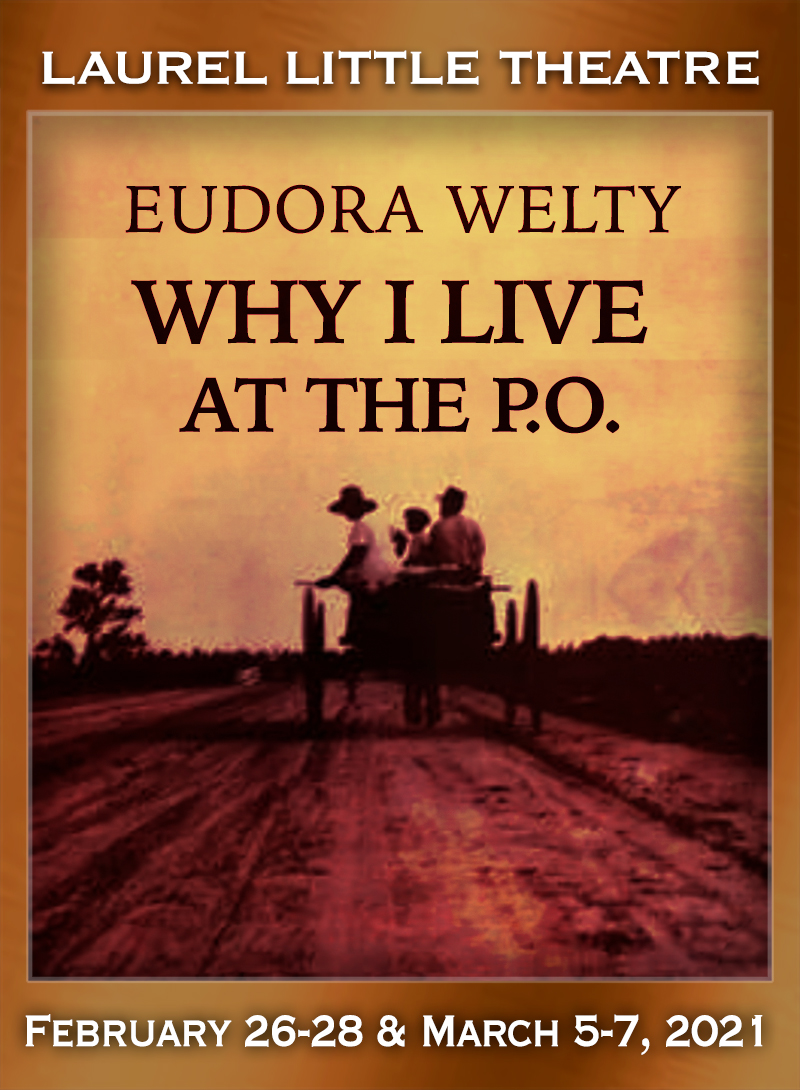 In 1941, Mississippi author Eudora Welty wrote a short story that became one of her most popular pieces. It was inspired by a photo that Welty had taken of a woman ironing clothes in the back of a small Southern post office.


It's a vivid one-woman show of 'Sister' – the postmistress of the teeny tiny post office in 'China Grove, Mississippi' - telling the story of her very very Southern family: Papa-Daddy, Stella-Rondo and Uncle Rondo. She explains all about her trials and tribulations with her mad-capped folks.


LLT alumni Christy Liverett will be playing 'Sister' for us – and she's already started learning all those lines so she'll be ready for the funny one-act one-hour long winter performance.


A LOVE STORY FOR ALL AGES
ON GOLDEN POND
April 16-17 & April 23-24 at 730pm
April 18 & April 25 at 2pm

Reservation line opens April 9 and answers 24 hours a day at 601.428.0140
AUDITIONS
February 1st & 2nd at 7pm at the Arabian
Directed by Frankie Bennett
A love story of an aged couple – cantankerous tart-tongued retiree Norman Thayer, and his supportive wife Ethel – living out their golden years as they spend summers at their peaceful Maine vacation home on the shores of Golden Pond.


Their daughter brings her wise-cracking 'too cool' soon-to-be stepson to stay with them – and the comedy, the teen angst and the drama all begins.


LLT faves Catherine & Steven Nowicki will play the Thayers. All other roles will be open at auditions on February 1st and 2nd.


The 1979 Broadway production won both Tony and Drama Desk awards. The well-received 1981 movie version with Henry Fonda, Katherine Hepburn and Jane Fonda garnered ten Academy Award nominations and three Oscar wins.


Sweet, funny, affectionate and moving – it's not to be missed!
SCRUMDIDDLYUMPTIOUS FAMILY FAVORITE!
WILLY WONKA
June 3-4 at 7:30pm
June 5 at 2pm and 7:30pm
June 6 at 2pm
Reservation line opens May 27 and answers 24 hours a day at 601.428.0140
Directed by Rebecca Green
Lovable Charlie Bucket and four other kids find lucky 'Golden Tickets' that win them a lifetime of candy – and a tour of Willy Wonka's magical Chocolate Factory.


Wonka is secretly looking for an heir to take over his factory, and Charlie might be just the 'ticket.'


Featuring famous songs from the movie like "The Candy Man" and "Pure Imagination" in a whole new memorable score – as well as the bright orange Oompa Loompas - it's guaranteed to delight everyone's sweet tooth!



This production is our annual Kids' Camp - a whole week of rehearsals and workshops that begins late May 27th, 2021 and ends with performances just days later from 100 lovable young actors that will AMAZE you!


SEASON TICKET MEMBERS

SAVE 10%-28% !!!!!!
A regular single ticket runs $17, but get an LLT 4-Punch Season Ticket at either $50 (
seniors or students
), $55 (
adults
), $100 (
two season tickets for a couple) or $190 (four season tickets for a family of four
).
You get
four
punches on each season ticket - allowing you to punch once per show, or you can even use up to two of your punches on any one production and bring someone with you.
Join now as an LLT season-ticket holder - you'll see all four regular season shows for an average price that's as low as ten dollars per punch -
live theatre for less than the cost of a movie!
BE THE FIRST TO GET THE NEWS!!
Click here to get added to our mailing list to receive our once a year brochure.
REMEMBER LLT IN YOUR GIFT GIVING
As a non-profit organization, LLT has always depended upon "the kindness of strangers." We survived and thrived for almost six decades thanks to the great support of everyone in the community.
We're very proud of our historic 1927 Arabian Theatre, but we have to constantly work at keeping the facility maintained, and we have big plans to add the new Pinehurst Room extension in the next year or so. That addition will run along the south side of the Arabian exactly where the old Pinehurst Hotel stood. And, YES, ladies, there will be brand new restrooms so you won't have to stand in that long line anymore!
We'll need the help of our friends and families and even strangers to raise the funds to complete this. Remember us in your annual gift giving and in your wills and estate planning. So many of our beautiful old buildings in Downtown Laurel have disappeared - help us to ensure this one continues to thrive. We're planning a Wall of Honor in the new Pinehurst Room that will memorialize your name or the name of those you'd like to remember. Mail to
LLTLaurelMS@aol.com
for more info.
BACKSTAGE VOLUNTEERS
We're always looking for folks that would like to help backstage on sets, props and costumes. Do you sew ? Like to help slap some paint on a wall? Do a little hammering? Drop us a line at
LLTLaurelMS@aol.com
.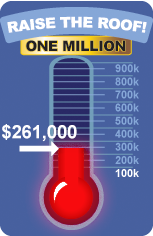 RAISE THE ROOF!


KICKING OFF OUR MILLION DOLLAR
FUND RAISER!

Let's Build The Pinehurst Room!