NEXT UP ON OUR STAGE
"ALWAYS ENTERTAINING YOU!"
A New Season Of Great Stories
AWESOME!

AMAZING!

ASTONISHING!

ASTOUNDING!
1980s Texas…1940s Indiana…1940s Mississippi…1930s NYC
NEW THIS SEASON - TWO WEEKENDS OF PERFORMANCES!!!
Martin Charnin, Charles Strouse and Thomas Meehan's
ASTOUNDING Family Favorite
ANNIE, JR
May 30 & 31 at 730PM
June 1 at both 2pm and 730pm
June 2 at 2pm
Reservation line opens May 23 and answers 24 hours a day at 601.428.0140
Directed by Rebecca Green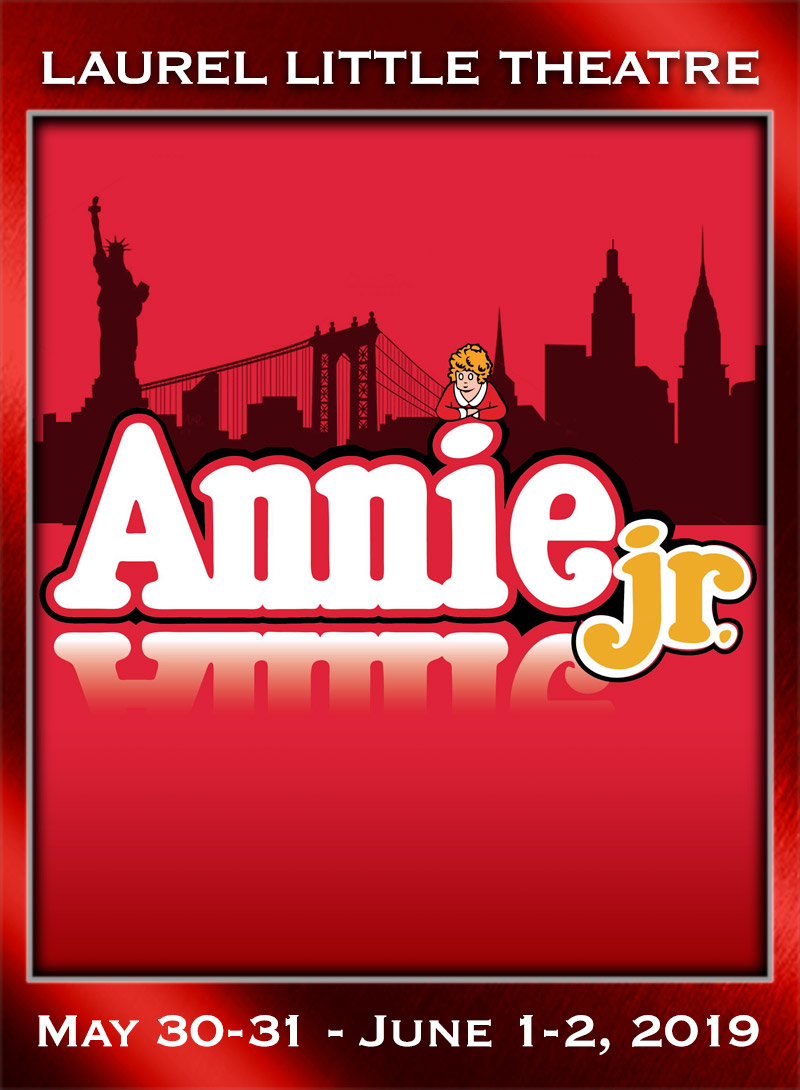 AUDITIONS APRIL 22-23, 2019
CLICK HERE FOR AUDITION INFO
Registration is now open and runs through April 15th (unless all 100 spots are filled in early as usual)
Camp is now 93% FULL
CLICK HERE FOR THE ONLINE
SIGN-UP FORM

If you're not already on our mail list, send a request to LLTLaurelMS@aol.com to be included.
We've presented the full stage musical ANNIE a few times, but this will be our very first production of ANNIE, JR. It's based on the hit comic strip, Little Orphan Annie – and tells the story of a little redhead kid filled with pluck and positivity – along with the tough billionaire Oliver Warbucks, mean ol' orphan matron, Miss Hannigan, a lovable mutt called Sandy, and a cast of 100 kids!
Set in the depression era of the 1930s, when some "good news" was something everyone needed a little taste of, Annie taught everyone that "the sun'll come out, tomorrow – bet your bottom dollar that tomorrow, there'll be sun!"
Written by Thomas Meehan, Charles Strouse and Martin Charnin, ANNIE won seven Tony Awards, including Best Musical, when the show opened in NYC in 1977. It's continually been one of the most produced stage shows across the world every year.
Three movie versions over the years have featured Carol Burnett, Tim Curry, Albert Finney, Bernadette Peters and Aileen Quinn (in 1982, getting two Oscar nominations), then Kathy Bates, Alan Cumming, Kristen Chenoweth and Andrea McArdle (in 1999, winning two Emmy Awards), and most recently, in 2014, a third movie version that starred Jamie Foxx, Bobby Cannavale, Cameron Diaz and Quvenzhane Wallis, and received two Golden Globe nominations.
Our annual summer Kids' Camp production features a week of workshops and rehearsals for the 100 kids that starts May 23rd, wrapping up the following weekend with some memorable performances where these little actors will move us all to laughter and tears as they sing their hearts out!!!
SEASON TICKET MEMBERS

SAVE 25%-30% !!!!!!
A regular
single ticket
runs $17, but a
4-Punch LLT Season Ticket
at either $45 (
seniors or students
), $50 (
adults
), $90 (
two season tickets for a couple
) or $170 (
four season tickets for a family of four
)
You get
four
punches on each season ticket - allowing you to punch once per show, or you can even use up to two of your punches on any one production and bring someone with you.
Join now as an LLT season-ticket holder - you'll see all four regular season shows for an average price that's as low as ten dollars per punch -
live theatre for less than the cost of a movie!
BE THE FIRST TO GET THE NEWS!!
Get added to our mailing list. To receive our once a year brochure that will go out late this summer,Click --> Click here to be added to our mailing list and give us your address.
REMEMBER LLT IN YOUR GIFT GIVING
As a non-profit organization, LLT has always depended upon "the kindness of strangers." We survived and thrived for almost six decades thanks to the great support of everyone in the community.
We're very proud of our historic 1927 Arabian Theatre, but we have to constantly work at keeping the facility maintained, and we have big plans to add the new Pinehurst Room extension in the next year or so. That addition will run along the south side of the Arabian exactly where the old Pinehurst Hotel stood. And, YES, ladies, there will be brand new restrooms so you won't have to stand in that long line anymore!
We'll need the help of our friends and families and even strangers to raise the funds to complete this. Remember us in your annual gift giving and in your wills and estate planning. So many of our beautiful old buildings in Downtown Laurel have disappeared - help us to ensure this one continues to thrive. We're planning a Wall of Honor in the new Pinehurst Room that will memorialize your name or the name of those you'd like to remember. Mail to
LLTLaurelMS@aol.com
for more info.
BACKSTAGE VOLUNTEERS

We're always looking for folks that would like to help backstage on sets, props and costumes. Do you sew ? Like to help slap some paint on a wall? Do a little hammering? Drop us a line.


RAISE THE ROOF!

KICKING OFF OUR MILLION DOLLAR
FUND RAISER!

Let's Build The Pinehurst Room!