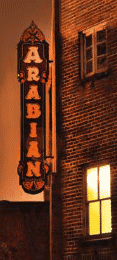 COMING UP AT THE ARABIAN
Season Opener
JEKYLL & HYDE
The Musical Thriller!
A Halloween
Week Special
Oct 29 - Nov 1
---
Auditions
ARSENIC & OLD LACE
The Classic Comedy
September 26
---
The Classic Comedy
ARSENIC & OLD LACE

December 10 - 13
---
RESERVATIONS AND CANCELLATIONS
Our reservations line is open only the week of each production, but it's answered 24 hours a day. Call 601.428.0140 on show weeks to make a courtesy reservation for any performance.

However, a last minute cancellation means empty seats for us! We can't fill a seat at the last second, so please call at least 24 hours in advance to release any reservations you won't be using.
Would you like to receive our email newsletter and annual season brochure?
---
Click here to be added to our
mailing list
BLAST FROM
THE PAST
LLT began in 1961 and our Arabian Theatre was opened in 1927. We'll feature old photos in this section that will change frequently.
1988 ORIGINAL ARABIAN THEATRE ENTRANCE FROM 1927
2015 - DONATED COLUMN PIECES
The original entrance to our Arabian Theatre was actually a long foyer that was part of the Pinehurst Hotel that was demolished back in 1988. Our present day courtyard is where that entryway ran - and you can still see the original 1927 floor tilework out there. At the original front door were the decorative columns you see in the picture above. Pieces of those columns were recovered by Brian Jordan back in the 80s when the hotel was torn down and thanks to Brian and his cousin, Jackie Thomas, we now have these historic relics back to in our collection! If you have any items from the old Pinehurst or the Arabian, please drop us a line so we can display them when we add on our new Pinehurst Room.
---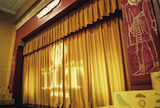 2008-Arabian Proscenium Arch
---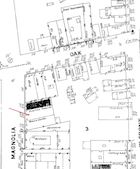 1907 - Laurel's First 'Electric Theatre'
Sank Taylor was Laurel's original 'theatre man' that ran both the Strand and Arabian Theatres. Back in 1907 before those were built, he hung a sheet on the back wall of a downtown building to create our very first 'electric theatre.' Thanks to Ronnie Goss of Meridian for finding this old Sanborn Fire Map showing its location on Magnolia Street.
Click here for a story on Sank and Laurel's old theatres.
---
1920s
PINEHURST HOTEL
A great old post card photo of the Pinehurst Hotel from back in the 20s. This was before an addition in 1927 added extra hotel rooms over to the right along with the Arabian Theatre right behind them. The Pinehurst was demolished in 1988, but we've just kicked off our fund raiser to build our own PINEHURST ROOM addition to the Arabian--right where the old hotel used to stand. We'll even recreate the old secret side entrance that used to allow hotel guests to go straight into the theatre from right inside the hotel!
---
1988
PINEHURST DEMOLITION
A photo taken from City Hall looking at the demolition of the Pinehurst Hotel and the old Arabian Theatre marquee. Our current courtyard is where that original signage used to be. The theatre is the tallest building you see on the right - behind the row of empty windows that were about to come down. The beautiful little Pinehurst Park we have today is located where the ruins remain on the left side of this photo.
---
Click here to see our entire collection of LLT and Arabian photos.
GOT ANY OLD PHOTOS OR STORIES OF LLT OR THE ARABIAN???
We're looking for more old pictures of the Arabian Theatre, or any of the over 200 shows we've produced at LLT over the last five decades. If you have any, you can scan and email it to us at

LLTLaurelMS@aol.com

, or drop a line and we'll just borrow it long enough to make a copy and return the original to you. If you have a great story you'd like to share, write it up and send it on. We'll be sharing throughout the season on our website.
OUR FIFTY FIFTH & FABULOUS SEASON
COMING UP NEXT
The Musical Thriller!
Director: Sam Buchanan
October 29 - November 1
The show was a 'monster' hit on Broadway in its original run back in 1997 receiving numerous Tony and Drama Desk nominations and awards, and was revived in NYC just two years ago.

A huge national tour of the show is scheduled for next year, and filming will soon begin on a major motion picture release, but LLT has secured the rights to bring it to our audiences as a special Halloween week presentation this fall to kick off our "Fabulous Fifty-Fifth Season"

Based on the classic old 1886 novel of "The Strange Case of Dr. Jekyll and Mr. Hyde", it tells the story of a conflicted man with double personalities - one good, and one evil - who seeks revenge for the evils that were inflicted on his father. The musical has a beautifully haunting score by Frank Wildhorn that featured the hit song "This Is The Moment" and the production made Linda Eder (who was recently in concert in Hattiesburg) an international star.

The LLT reservation line for JEKYLL & HYDE opens October 22nd and will answer 24 hours a day the week of each show.

---
BE THE FIRST TO GET THE NEWS!!
Get added to our mailing list. To receive our once a year brochure that will go out late this summer, Click -->
LLTLaurelMS@aol.com
and give us your address .
---
REMEMBER LLT IN YOUR GIFT GIVING
As a non-profit organization, LLT has always depended upon "the kindness of strangers." We've survived and thrived for five decades thanks to the great support of everyone in the community.
We're very proud of our historic 1927 Arabian Theatre, but we have to constantly work at keeping the facility maintained, and we have big plans to add the new Pinehurst Room extension in the next year or so. That addition will run along the south side of the Arabian exactly where the old Pinehurst Hotel stood. And, YES, ladies, there will be brand new restrooms so you won't have to stand in that long line anymore!
We'll need the help of our friends and families and even strangers to raise the funds to complete this. Remember us in your annual gift giving and in your wills and estate planning. So many of our beautiful old buildings in Downtown Laurel have disappeared - help us to ensure this one continues to thrive. We're planning a Wall of Honor in the new Pinehurst Room that will memorialize your name or the name of those you'd like to remember. Mail to
LLTLaurelMS@aol.com
for more info.
---
BACKSTAGE VOLUNTEERS
We're always looking for folks that would like to help backstage on sets, props and costumes. Do you sew ? Like to help slap some paint on a wall? Do a little hammering? Drop us a line.


---
RAISE THE ROOF!

KICKING OFF OUR MILLION DOLLAR
FUND RAISER!

Let's Build The Pinehurst Room!

Click Here For Our Plans & Sketches,
An Update On Our Progress,
The Current List Of Donors & The Donor Form

P. O. Box 2131 Laurel, MS 39442
LLTLaurelMS@aol.com
Reservations And Ticket Info 601.428.0140
(reservations taken only the week of each show)