2011 - 2020 Stories on the Arabian and LLT
---


PROFILES 2011: Golden Years
Laurel Little Theatre Celebrates 50 Years Of Entertaining Community
By David Owens at the Laurel Leader-Call March 12, 2011

It was August 1961 when four Laurel residents met in a bowling alley located next to the Laurel Leader-Call to form what would become the Laurel Little Theatre.

The group, which included Marda Kaiser Burton, Mary Anne Sumrall, Ernest Graves and Gene Gandrau, wanted to give those who enjoyed the theatre or wanted to display their talents a local showcase.

Wess Hughes, the LLT historian, said the theatre group was organized in the old Pinehurst Hotel Coffee Shop, which was located inside of the historic hotel.

"The first couple years, we were just in the high schools," Hughes said. "We could only get in the schools a day or two before the show, so sets and productions had to be fairly simple. We couldn't do musicals, just smaller comedies and dramas, and could only run a performance or two."

Hughes said that original group featured well-known Laurel residents including Jim Gibbon, Annie Ruth Grim, Page Jones Harris, Billy Howard Jr., Billy Lightsey, Ruth Tomlinson, Dot Traweek and Granville Walters.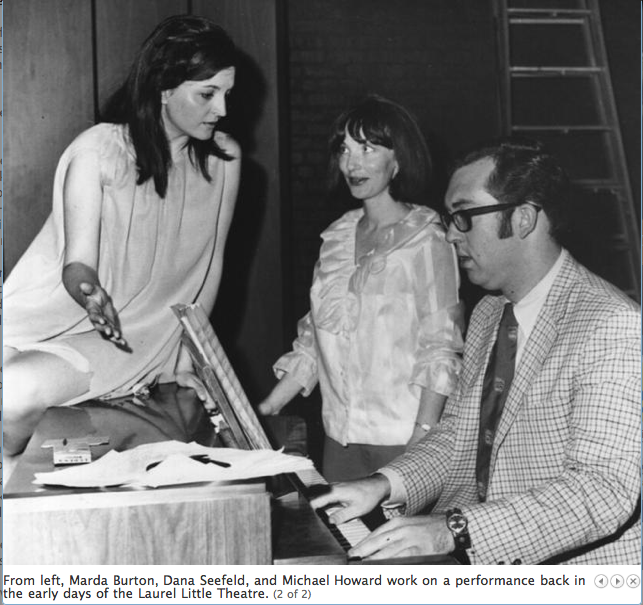 "Their goal was to present Laurel citizens with entertainment and to give would-be thespians a chance to get up on a stage and ham it up for their friends and family," Hughes said. "Now, five decades later, that's still our main goal at the theatre. Little did those founders know in 1961 that one day that very group they organized would be performing in the old Arabian movie house just right next door to the Pinehurst Coffee Shop where they were meeting to form the group."

Hughes said the group began performing in the early '60s at the Wisner Building, Mason Elementary School or Watkins High School. In 1967, Laurel Little Theatre leased space at the old Downtown Armory Building, and was even featured at the Lauren Rogers Museum of Art during those years in a "Sunday at the Museum" series.

Downtown Urban Renewal forced LLT out of the Armory in 1976. After searching for a new home, the group landed at the Arabian Theatre, which had just recently gone out of business. When LLT moved in to the Arabian, the original 1927 paint colors and Arabic, Persian and Egyptian features were restored. Thanks to the contributions of local businesses and individual patrons, the building was renovated and debt-free in three years.

Hughes said it was only after LLT moved into the Arabian Theatre that they could do more elaborate shows.

"But, we're still constricted," he said. "The theatre was built as a movie house so there's no wing space or fly system. We still have to compromise on everything we do."

Hughes said the Arabian Theatre, which was built by Sank Taylor, was one of seven or eight downtown movie theatres in Laurel at one time.

"The movies were your only entertainment," he said. "People went two to three times a week because they also showed news reels."

Hughes said he recently located Taylor's daughter Evelyn, who danced on Broadway and was a featured performer in the movie Oklahoma!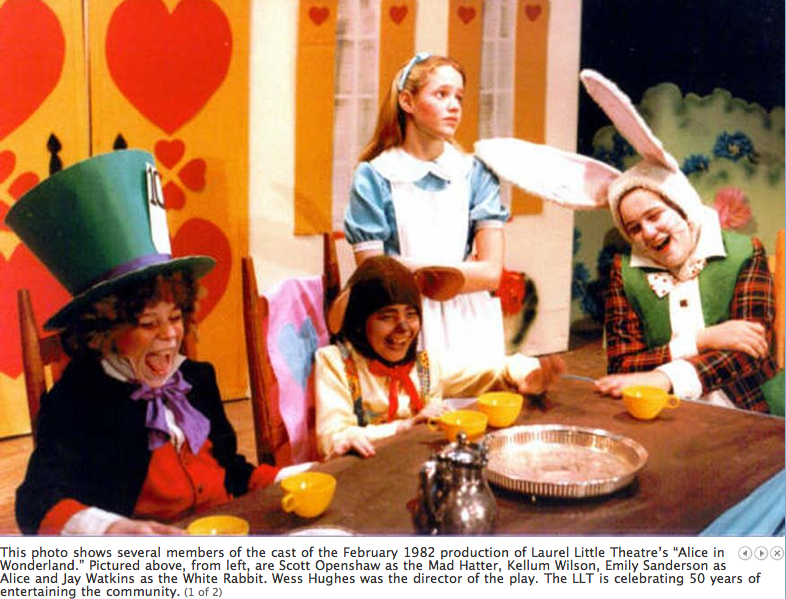 "She married co-actor Rufus Smith, who we got to direct a show at LLT in the '60s," he said. "Rufus was on Broadway with Ethel Merman in Annie Get Your Gun."

Hughes said LLT hopes to host another fundraising drive in a few years to add on to the building.

"We want to build on the south side what will be called the Pinehurst addition, because it will be exactly where the old Pinehurst Hotel was," he said. "We want to grow our wing space and stage and add on a meeting room, hospitality room, new bathrooms and refreshment area."

Hughes said LLT's 50th season has been "one of our best seasons ever."

"We kicked it off with BEEHIVE! The 60's Musical, and had to hold it over for a whole extra week," he said. "Our second show, To Kill A Mockingbird, was also sold out for its initial run and we had to add on another weekend."

Hughes said the theatre group's most recent product, Daddy's Dyin'... Who's Got the Will?, was also very successful.

The season will conclude with Hairspray on May 12-15. Set in 1962 Baltimore, Md., the musical — directed by Lacy Cockrell — tells the story of "pleasantly plump" teen Tracy Turnblad, whose dream is to dance on a local TV dance program. When she makes the show, Turnblad becomes an overnight celebrity, and uses her fame to improve the situation for outcasts at her school.

"Membership is up this year, and we've had record levels with our attendance," he said. "There's been a lot of interest in the theatre since we did renovations two years ago. We did a lot of interior work on the Arabian and got it gussied up a little bit."

Hughes said LLT also recently added a a Headrick's sign to the building, which is the first time the building has actually carried the Laurel Little Theatre name.

"When the hotel was torn down, the common wall that was between the hotel and theatre was just a blank space," he said. "There were no architectural details or elements of art to it, and it had been like that since the hotel was demolished in 1988.

"We always wanted to work on that look," Hughes added. "We wanted to have the look of what an exterior of a theatre would have looked like if it was a freestanding theatre built in 1927."

Hughes said LLT also added several new display cases and re-electrified the neon sign for the Arabian Theatre.

The Arabian Theatre, which was built in 1927, carries many of the same design elements of the Saenger Theatre buildings in Hattiesburg, New Orleans and elsewhere.

He noted that many of the grand theatres of the 1920s were designed with Arabic, Egyptian and Persian influences because King Tut's tomb had been discovered in 1922 and remained in the nation's headlines for years.

"The whole world was fascinated by Egyptology and the Arabian Peninsula," Hughes said. The Chicago Theatre and Atlanta's Fox Theatre among many others feature these elements.

Over the years, a number of LLT performers have gone on to hit it big, including Tom Lester of Green Acres fame; Patrick Weathers, a former Saturday Night Live cast member; Parker Posey, who has starred in such films as You've Got Mail, Superman Returns and Waiting for Guffman; and Mary Elizabeth Ellis, currently starring on NBC's Perfect Couples.

"We're proud of the progeny we've had over the years," Hughes said. "Mike Howard used to direct a lot for us, and is now the head of the theatre department at Tulane. I moved on, and have done shows from New Orleans to California."

Among the performances in the early years were Born Yesterday, Dial M for Murder, The Curious Savage and The Man Who Came to Dinner and The Philadelphia Story. Well known Broadway hits such as Showboat and Oliver, as well as classic Tennessee Williams productions and The Wizard of Oz and The Sound of Music have also been featured.

"Our productions are pretty slick," Hughes said. "It always amazes me the talent we have in Jones County. It's pleasant to go back and work there. We've always had great support from our patrons, audience, actors and singers."

For more information on the Laurel Little Theatre, visit www.laurellittletheatre.com.


---


"LLT's production of "A Tuna Christmas" opens Dec. 8th" Actors Nowicki, Hughes portray 22 different characters
By Linda Cranford,
LLT Board of Directors Publicity Chair
CNHI December 2011

LAUREL — Laurel Little Theatre's next production of "A Tuna Christmas" will open Thursday, Dec. 8 and run through Sunday, Dec. 11, with show time at 7:30 p.m. Thursday through Saturday and at 2 p.m. for the Sunday matinee.

LLT veteran actors Dr. Stephen Nowicki and Wess Hughes make the quickest costume changes you'll ever see as they portray 22 different hilarious red-neck characters from the little town of Tuna, Texas.

Hughes has over 300 productions to his credit and has directed or acted in LLT shows in each of the last five decades. Hughes got his start with LLT when he lived in Laurel in the 1970s and 80s while attending JCJC and USM. Locally, he's done many shows for both LLT and Hattiesburg's Civic Light Opera and has served on the Board of Directors for both organizations, as well as the State Theatre Association. In the 1990s, he lived in New Orleans, co-producing and acting for All Kinds of Theatre, a company that has won many of New Orleans' Best Play Awards, and he was nominated for Best Actor there on several occasions. He's now making his very first theatrical effort in New York City as a co-producer of the revival of the hit musical "Godspell" written by "Wicked's" Stephen Schwartz, which opened on Broadway a couple weeks ago to good reviews and the potential for a long run. Now living in San Francisco, he returns to Laurel about once a year to do a show around the area and to visit his folks, Wesley and Martha Hughes. Hughes organizes group trips to New York City every year at Thanksgiving and New Years, and then to both NYC and London for Spring Breaks.

Dr. Steven Nowicki was born in New York City and grew up in a small town 40 miles outside of New York City in Bellmore, New York. Nowicki fell in love with literature and drama during high school and received a theatre scholarship to Adelphi University where he studied theatre, literature, film and biology. Upon graduation from Adelphi University he was accepted into the Drama School of Yale University to study acting and graduated with an MFA in 1976.

"The next few years I knocked around the theatre world in New York City and the regional theatres," explained Nowicki, "and I fell in love with my wife Catherine. The next best thing to falling in love with Catherine was playing Wile E. Coyote before thousands of screaming children at Madison Square Garden in New York City. There is magic in a child's laugh."

He and Catherine eventually married, had two children and Nowicki went on to medical school, orthopedic surgery training and the U.S. Navy. "Currently I am starring in an ongoing role as an orthopedic surgeon at the Laurel Bone and Joint Clinic," exclaimed Nowicki.

"A Tuna Christmas" will be Nowicki's first major role in 35 years, having played several minor roles on stage at both LLT and Hattiesburg's Civic Light Opera.

Director Catherine Nowicki is best known to local theatre audiences as Louise from the musical "Always, Patsy Cline" which she co-starred in with Missy Sanderson as Patsy and the two have performed the musical together since 2001. She and Steven have performed in and co-directed several productions in Laurel and Hattiesburg and have been accompanied on stage by their two children. "For me, LLT has not only meant a love of theatre and community, but love of family doing theatre together as well," exclaimed Nowicki.

This past year Nowicki appeared as Miss Hannigan in "Annie" and Mrs. Tottendale in "The Drowsy Chaperone" for HCLO in Hattiesburg, both with husband Steven. She has taught acting at JCJC as well as other colleges and has a BFA in theatre from Boston Conservatory. She has been a professional actress since 1971, acting from Maine to Florida and Washington, D.C. to Japan, including Off-Broadway and other theatres in NYC. She also has an image consulting business where she helps women and men learn their best colors and styles.

"A Tuna Christmas" is dedicated to the people of Laurel and the two talented men I'm directing… my husband Steven and Wess Hughes," noted Nowicki.

Reservations for "A Tuna Christmas" can be made by calling 601-428-0140. Tickets for this show only, as well as LLT season tickets, will be available, but reservations are required. Be advised that "A Tuna Christmas" does contain some real authentic Texan-style cussin' in it.


---


Our own Wess Hughes makes a television appearance talking about Red White & Tuna April 21, 2015


---
Arabian Theatre's 90th Birthday was celebrated with a 1920's costume party on April 8th, 2017. Co-chairmen of the event, Robin Robinson and Sam Britton, appeared on MIDDAY. April 8, 2017


---
LLT President Rick Youngblood was a Channel 7 MIDDAY guest this week, just before our season opener of JOSEPH. August 1, 2017


---